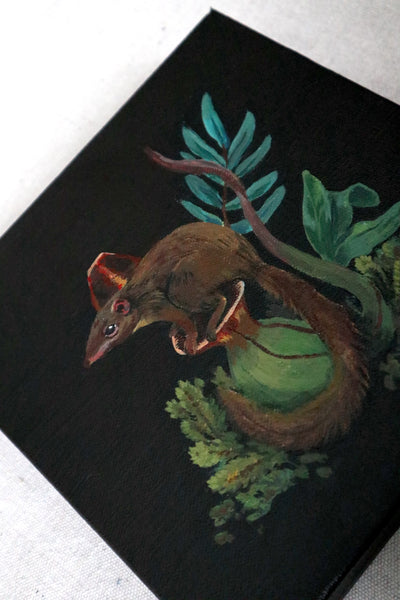 Tree Shrew & Pitcher Plant ~ Acrylic on Canvas
Regular price
$415.00
Sale price
$225.00
---
Orginal Acrylic painting on canvas. Measures 8x8" (and 1.5" thick)
Tree shrews have a symbiotic relationship with the pitcher plant. Pitcher plants produce a sugary substance that attracts the shrew to eat it, and the shrew in return, uses the pitcher plant as a toilet of sorts, which nourishes the plant. This painting is definitely a conversation starter!
Original paintings always add a bit of authenticity and interest to any home. This painting is made to last, and to be enjoyed for generations to come. 
Colors may vary slightly from on-screen to real life.
IMPORTANT SHIPPING INFO:
First class shipping worldwide is included in the price of this piece. This includes tracking, but NO INSURANCE against loss or damage in transit. I highly recommend that you upgrade to the Priority Shipping option, which will cover the insurance should anything happen to the painting in transit. 
Customs fees and VAT may apply upon entry into your country if you are outside of the US. These fees are determined by your local municipality, which I cannot predict. These fees are the responsibility of the customer.
---