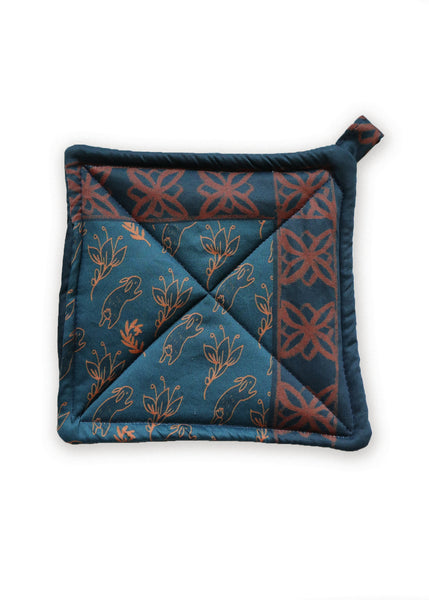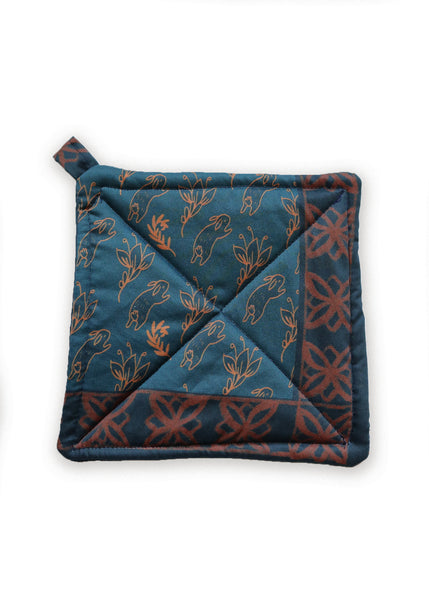 Golden Bunnies Pot Holder
This pot holder has been made using remnant pieces of my fabric from other projects, in an effort to reduce waste! The pattern positioning on it may vary slightly from image.
Measures approximately 8 inches.
Oven mitt materials:
100% cotton exterior
Interior comprised of 2 layers of cotton insulation & insul-bright insulation. Insul-bright insulation is intended for use in oven oven mitts and pot holders. It is heat resistant, not heat-proof. For handling items over 400 Degrees Fahrenheit, double up with another hot pad.
Wash and tumble dry. The crinkling sound of the Insul-Bright should diminish with washings.
Warnings:
Do not microwave pot holder, or place in oven. Insul-Bright lining contains a metallic and polyester layer, making them unsafe for use in a microwave and extended exposure to extreme temperatures. Product has not been treated for flame resistance. Use with care. 
***Sammie Clark Art waives any responsibility for damage to property or injury to person during use of this product.